Micro Filter NAG type
In response to the requirement to eliminating such as Alumina, Silica in the fuel oil,
actualizing filtration size of 5μ, 10μ, 15μ, which was difficult to make by the Notch wire type and Wire mesh type!
Accurate Filtration size
For Fuel oil, Standard Size is 5μ, 10μ, 15v and for Lub. Oil is of 1μ, 3μ
Merit of Introduction
As volumetric type filter(strainer), no back washing oil exists there.
Therefore, sludge treatment device is not required.
The sludge in the oil is to be cached by Felt element, and only exchanging work with new one is needed.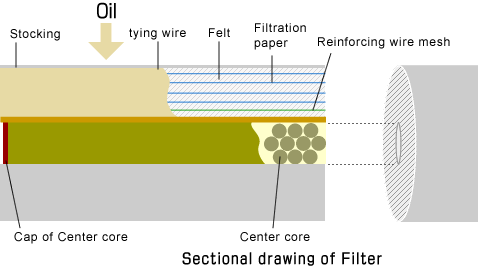 Application Example
Filtration for Marine Fuel oil and Lubrication oil
Filtration for Fuel oil for Industrial use
And for other Equipments
Latest reference of new products
Delivery results has recorded about 400 units supplied.( Until 2012/Oct)
Remaining alumina and silica in bunker fuel causes damages on engine and increases maintenance cost and exchange of parts. Countermeasure for this is combination of NAG and Omega Fire EN
Related Product
*This specifications may be subject to change without any notice